This was one of those perfect thrifting days; great treasures, good prices, friendly people and not too crowded.
I had three favorite finds today. My
most
favorite find was a set of old alphabet blocks. Some stack together to create figures but the alphabet silhouettes are my favorite. Behind the blocks is a real slate chalkboard.
My second favorite find was an old Czechoslovakia, Stars & Stripes glass ornament. I've never seen these before. It is a bell shape, flocked and has a piece that dangles below.
My third favorite find was a duck sewing box. A pair of scissors creates a beak. The wings are pin cushions. There is a little drawer to hold notions and pegs to hold thread and a thimble. This would make hand sewing such a pleasant pasttime.
There were so many other great treasures. Lots of sewing notions with boxes of buttons and cans of wooden spools. Some of the spools had carved patterns on the ends.
We found a stack of crochet doilies. These can make such a nice colorful display.
The wooden blocks came in an old wire basket, seen here with a wire card display.
There were several vintage glass containers: a Libbey Pinecone Carafe and an old fish bowl terrarium.
I've seen antlers before but buyers usually scoop them up before I can get them. This time I was lucky.
And lastly I found an old Samsonite suitcase that matches one I had bought over 20 years ago at the Rosebowl Swapmeet. This one is a lot bigger and a lot cheaper. If I wait 20 more years maybe I will find a matching Train Case and have a complete set.
Finding these treasures was so much fun but the very best part was chatting with such nice people while waiting for the sale to start. I like days like today. It was a perfect thrifting day. I hope everyone had a nice day of thrifting. I will get some of these items in my
Stuff to Treasure store
as quickly as I can.
Thrilled to be Featured at: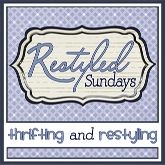 This is linked to: